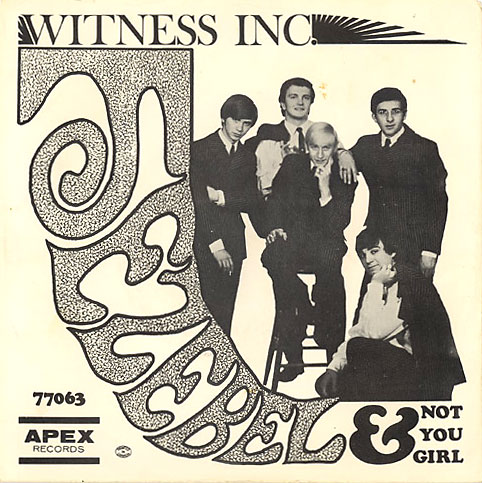 One recording I was never able to find was a 45 released by a Saskatoon group in 1967. The group was called Witness Inc and the record was their version of "Jezebel"; I remember when it was in the Canadian Top Five on our local top 40 station (CKRC).
I've been able to find some pretty obscure stuff in used record stored and places like the Salvation Army Thrift store, where I found their 45 "Visions Of Venessa." I don't remember hearing that song on the radio.
But it was at Pyramid Records that I found the Herman's Hermits album
There's A Kind Of Hush All Over The World
and there right in the middle (I can't remember if it closed out side 1 or began side 2) was "
Jezebel
" in all its glory, exactly the way I remember Witness Inc doing it, and I marvelled at the fact that this famous English band was covering an obscure Canadian group whose records hadn't even been released outside Canada.
Well yes I know it was the other way around; still I didn't give up looking for it. I found records by The Fifth, Gettysburg Address, The Eternals, The Shondels, all Winnipeg groups, (the Shondels not to be confused with Tommy James and the Shondels), but "Jezebel" has existed for me only in my memory.
Until now. I found it. Unfortunately I didn't find a physical copy - not on vinyl, not on CD, not even on mp3. But here it is on
YouTube
. So I can't pick it up and take it with me. But I know now that there is at least one other person in the world that not only remembers this record, but actually has a copy, and treasures it enough to upload it and share with weirdos like me. Not just that, but now I'm sitting listening to all these Witness Inc that I never heard and never even knew existed, and man, I am GROOOOOOVIN….