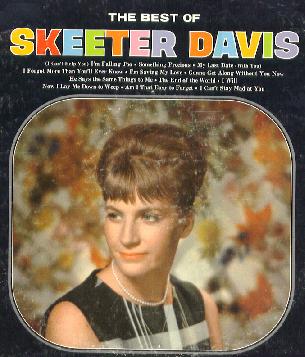 When I was already a young adult my father brought me a small collection of 45s that he'd salvaged from a house he'd listed and sold. Apparently the erstwhile children had outgrown their record collection and I was to be lucky benefactor. What was a bit unsettling was that I knew the family; they had two kids, the oldest of whom was exactly my age.
It's 30 years later, and I still haven't outgrown those records.
What was in the pile. Well, I remember Early In The Morning by Vanity Fare. Maybe as I go through my collection more I'll remember others. But I do remember the oddest one. It was a version of One Tin Soldier. Now, One Tin Soldier had been a hit for The Original Caste in 1969, and for a group called Coven a few years later (though I was unfamiliar with that one), but the record I got my hands on was by neither of those. The record I got my hands on was by Skeeter Davis, a singer whom I'd never heard of.
It eludes me to this day. It doesn't seem as if Skeeter ever had a hit with that song, not pop nor country. Possibly it was a B side? But I would have noticed, I think.
Not surprising that I'd never heard of her though. She hadn't had a record on the pop charts since 1964, and she wasn't exactly popular on the flashback circuit. I found
The Best Of Skeeter Davis
at Value Village, it was a bit beat up but serviceable, and I paid exactly $1.00 for it. It was an old first-run RCA album, and it had every one of her top 100 hits on it.
---
Skeeter Davis:
•
The End Of The World
– A totally over-the-top heartbreak ballad, and they don't come any better. Herman's Hermits did a version of this that I grew up with; it was on
Herman's Hermits On Tour
. From the winter of 1963.
•
I Can't Help You (I'm Falling Too)
– An answer record of sorts to Please Help Me I'm Falling By Hank Locklin. From the fall of 1960.
•
I'm Saving My Love
– A song of unrequited love, from the summer of 1963.
•
I Will
– Not The Beatles song. Another heartbreak song. All she wants is for him to come back. In real life she'd throw his clothes in the street. This was a hit in 1965 for Dean Martin.
•
Something Precious
– A song of loss, a bit cloying.
•
Now I Lay Me Down To Weep
–A play on the prayer, obviously. She is sad here, no question. Her tale of sleeplessness and wanting to die verges on mood disorder territory.
•
Gonna Get Along Without You Now
– A lot healthier than those weepy ones. From the spring of 1964, her last pop hit. Trini Lopez did this.
•
He Says The Same Things To Me
– You can guess what this is. From the winter of 1964.
•
I Can't Stay Mad At You
– This song is definitely an underrated girl group classic, not bad for a country singer. From the fall of 1963.
•
I Forgot More Than You'll Ever Know
– Singing to her successor in "his" affections. Dylan covered this on Self Portrait, but I like Skeeter better.
•
My Last Date (With You)
– The end of the relationship, not a happy situation. This was a big instrumental hit for Floyd Cramer (called just Last Date).From the winter of 1961.
•
Am I That Easy To Forget?
– A hit for Debbie Reynolds, and later for Engelbert Humperdinck.
•
One Tin Soldier
– A cover of the hit by Original Caste / Coven. A morality tale which never made all that much sense to me.