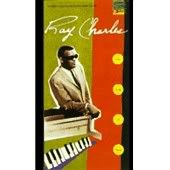 Ok everyone knows Ray Charles. They even made a movie about him, though I didn't see it. And Flip Wilson used to say "Ray Charles" as some kind of weird incantation.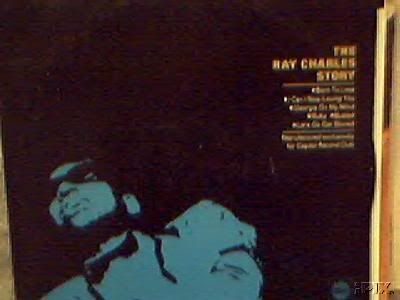 He recorded for Atlantic until 1960, then he switched to ABC Paramount, a
nd so it used to be almost impossible to find any kind of anthology that spaned his career. Not so now, but I put this collection together myself years ago.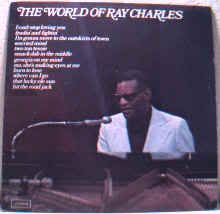 I used the Atlantic box set that I got from the library, and vinyl including
The Ray Charles Story
volume something-or-other,
The World Of Ray Charles
,
The World of Ray Charles Vol 2
(both copies from Sears Garden City), and a double album that I found in the archives of the Centennial Library called
The Ray Charles Story
, which had one album of Atlantic songs, and one album of Paramount songs. I also threw in a couple of

songs of singles for good measure.
---
Ray Charles:
•
It Should Have Been Me
– This is not the Gladys Knight & The Pips song. This one is funky. It should have been me with that real fine chick. I can relate these days. Ray was still finding his voice.
•
Mess Around
– not the Chubby Checker song, a lot faster and raunchier.
•
Don't You Know
•
I Got A Woman
– this is where Ray did find his voice. This song was huge, but it did not make the Billboard charts. It did find its way into the Cashbox top 100. It was recorded by many many artists, including The Beatles and Elvis. Jimmy McGriff put an instrumental version into the top 40. At least now we know that a woman's place is in the home…
•
A Fool For You
– Not The Impressions' song, which was just Fool For You, anyway.
•
Hallelujah I Love Her So
– Another popular one for covering. I can think of Peggy Lee and Eddie Cochrane offhand.
•
Drown In My Tears
– One of those great ballads. Covered by Joe Cocker and Blood Sweat & Tears, two great Ray Charles followers (meaning David Clayton-Thomas in the case of BST)
•
Rockhouse
– An instrumental with a great shuffle rhythm
•
Lonely Avenue
– Another one of those Ray Charles 50s masterpieces.
•
Ain't That Love
•
Swanee River Rock (Talkin' Bout That River)
– Ray Charles does Stephen Foster.This was Ray's first Billboard single; Actually reached number 34 in the fall of '57
•
Talkin' Bout You
– A song with this title turns up all over the place (Rick Nelson, Chuck Berry, The Stones) but it's impossible to tell whether this is the same one…
•
What Kind Of Man Are You
– I'm not sure who is singing this but it ain't Ray, being female
•
Yes, Indeed
•
My Bonnie
– Not even Ray can salvage this one. The Beatles did it, with Tony Sheridan singing, and it was no better. Duane Eddy did ok, but only because it was an instrumental.
•
Tell All The World About You
– I kinda know how that feels
•
Night Time Is The Right Time
– Dave Marsh said some interesting things about this, about "to be with the one you love" really meaning "to be with the one you …" but I respectfully disagree. The one you love will do fine. Carla and Rufus Thomas covered this (sick) as did CCR on their Green River album. This snuck into the top 100 in February, 1959.
•
Mary Ann
– I knew the nicest girl named Mary Ann. That was at university, and she went on to become a TV reporter, but I lost track of her years ago. I wish I could remember her surname so I could google her. This is not the calypso song, which is Marianne, anyway.
•
I Believe To My Soul
– This is where Ray plummets the depths of emotional reality.
•
Just For A Thrill
•
What'd I Say
– One of my personal favourites. The groove on this is unbelievable, and the drummer seems to play things that are not humanly possible. I bet this is the first use of electric piano as a lead instrument. This was in the top 10 in the summer of 1959. Elvis put this back on the charts, and so did Bobby Darin, and Jerry Lee Lewis, and Rare Earth. And The Beatles did it with Tony Sheridan, and so did The Searchers, and many others, though not with Tony Sheridan
•
Come Rain Or Come Shine
– Atlantic pulled this out and put it out after Ray had moved to ABC Paramount, and it made the charts at the end of 1960.
•
Let The Good Times Roll
– Not the Shirley & Lee song.
•
I'm Movin' On
– Great song by Hank Snow, and Ray goes country. He was to expand more into country a few years later. This was a small hit in December '59.
•
Don't Let The Sun Catch You Crying
– A beautiful beautiful ballad, beautifully done. This is not the Gerry & The Pacemakers song, and it was covered by Paul McCartney. It snuck into the top 100 early in 1960.
•
Georgia On My Mind
– The great Hoagy Carmichael classic. It was Ray's debut single on his new label. Reached number 1 in autumn, 1960. The Righteous Brothers copped the same arrangement.
•
Ma (She's Making Eyes At Me)
– A pop standard but Ray adds a joke about how fat she is. Ha ha. "Suppose a baby should come later," sings Ray, "it's bound to look like an alligator…"
•
Born To Lose
– A hit in the spring of '62. I think I have a version by Tennessee Ernie Ford, but I love the way Ray sings it, so incredibly sad.
•
Where Can I Go
– Written about a refugee, if I'm not mistaken. Steve Lawrence recorded it partly in Yiddish.
•
One Mint Julep
– This instrumental cover of the Clovers' hit was a top 10 single in the spring of '61.
•
Ruby
– From December, 1960. My mother had a friend of some kind whose name was Ruby. I think she's deceased, though.
•
Hit The Road Jack
– By Percy Mayfield. One of Ray's best known songs, this hit number 1 in the fall of '61. Irresistable. The Stampeders covered it in the 70. And The Animals did a respectable version on of their last albums.
•
Teardrops From My Eyes
•
Sweet Georgia Brown
– I guess she's on his mind. A jazz staple
•
Stella By Starlight
– Another standard.
•
Unchain My Heart
– A lot of drama in this. From late 1961. Joe Cocker did a great cover.
•
Hide Nor Hair
– From spring '62.
•
Them That Got
•
Willow Weep For Me
– Chad & Jeremy put this on the chart in 1965, but they didn't sing it like Ray.
•
Smack Dab In The Middle
– Also done by Ry Cooder, this was a small hit in autumn, '64.
•
I Chose To Sing The Blues
– From the fall of '66, but I don't remember hearing it. And Ray doesn't really sing the blues.
•
In The Heat Of The Night
– This may have been from the movie, Whitburn doesn't say. It was a hit in the fall of '67 but I don't remember hearing it.
•
I Can't Stop Loving You
– The song is by Don Gibson and it's a country song, and Ray did it on an album called Modern Sounds In Country And Western Music, which is about the best title I've ever heard for a popular music album. The song was number 1 in the spring / summer of 1962 for five weeks, and the contrast between the super-slick arrangement and chorus and Ray's ragged voice typifies all that is best about Ray Charles.
•
Feudin' And Fightin'
•
I'm Gonna Move To The Outskirts Of To
wn – Doesn't sound radical to me. From the summer of '61.
•
Worried Mind
– Another of those ballads that Ray does so well
•
Two Ton Tes
sie- I've never known anyone called Tessie, two tons or otherwise…
•
You Don't Know Me
– A hit for Jerry Vale in 1956 and for Elvis Presley in 1967, Ray put this one on the chart in the top 10 in the fall of '62, and his version is the best of all
•
You Are My Sunshine
– Sorry, not even Ray Charles can rescue this one, Raelettes and all - .except when the female singer takes over. Too bad she doesn't do the whole song. From late '62.
•
Your Cheatin' Heart
– No one does Hank Williams like Ray Charles.This was the b side of You Are My Sunshine.
•
Don't Set Me Free
– Kind of weird, uses a prison analogy to express his undying love. "Keep me in a state of agony" sings Ray.From winter / spring '63
•
Take These Chains From My Heart
– Oh how I'd love to dance to this with someone. Another Hank Williams song, this was a hit in the spring of '63.
•
Without Love (There Is Nothing)
– Orginally a hit for Clyde McPhatter, then later for Tom Jones, Ray slowed it down as slow as he could get and put it on the charts in the summer of '63.
•
No One
– This was the a side of Without Love, and it was a hit at the same time.
•
Busted
– Busted in this case means broke, not arrested. From fall of '63.
•
That Lucky Old Sun (Just Rolls Around Heaven All Day)
– Yet another self-pity song, but what a self-pity song. Frankie Laine did this in the 50s. This one was from early '64, around the time The Beatles hit America.
•
Crying Time
– A Buck Owens song. A top 10 hit in early '66.
•
What'd I Say
– A live version
•
Together Again
– Another Buck Owens song. This from the spring of '66.
•
Let's Go Get Stoned
– By Ashford & Simpson. This is from the summer of '66 and it's about drinking. I don't remember any of these songs.
•
Here We Go Again
– Yet another Buck Owens song. Yikes. From the summer of'67. Wow. That was the summer of love. I listened to plenty of radio, but I didn't hear this.
•
Yesterday
– Ah, Ray Charles does The Beatles. I have read that his reading of this song is real, more so that McCartney's, he speaks with the voice of wisdom and regret. Me, I just think that he oversings it. Finally, I remember this, but I didn't hear it much. This is from late '67.
•
Understanding
– From the summer of '68.
•
Eleanor Rigby
– More Beatles. This version competed with the one by Aretha Franklin, if not for sales, then for validity. Now let's keep track. How many versions of Eleanor Rigby? Ok, 1. From the summer of '68, the a side of Understanding.
•
If You Were Mine
– From December , 1970, a bit more pop that what we're used to.
•
Don't Change On Me
– From the spring of '71. It sounds kind of weird, the idea of don't change on me, but there's a sadness in Ray's singing, like he knows that it's inevitable. And it is.
•
Booty Butt
– An instrumental from the spring of '71.
•
Feel So Bad
– From the fall of '71.