It was one random afternoon when I should have been working, and I was scrounging through the LPs at Comic World when I was delighted to find all three volumes of
Gene Pitney's Big 16
. No, it did not take three LPs to encompass 16 songs. No. Each LP had 16 songs on its own. So one could argue that the series should have been entitled Gene Pitney's Big 48. My best guess, though, is that nobody planned this out. So we have to live with the anomaly.
But my delight was real. I already had an LP called
Gene Pitney's 16 Greatest Hits
, the 16 tracks of which corresponded to none of the Big 16 volumes exactly, and which, in fact, had one track that was on none, believe it or not, and I had some pre-recorded cassette that had Louisiana Mama, so now I had the makings of a stupendous collections. And that's what I assembled, using a more or less random sequencing algorithm (I closed my eyes and pointed).
Three of his top 100 singles are missing here – one is I've Got Five Dollars And It's Saturday Night, a duet with George Jones, one is That Girl Belongs To Yesterday, an obscure Jagger-Richards composition, and the last is She Let's Her Hair Down (Early In The Morning), a song better known by The Tokens. I've got all three somewhere else, just for the record. I should get to it around 2025.
---
Gene Pitney:
•
Billy You're My Friend
– Not any more, apparently. She's A Heartbreaker, which was a hit in the summer of 1968, was Pitney's last stab at top 40 success. This was his follow up, and bears the mark of its time, replete with tempo changes, a middle eight with a piano credenza worthy of Franz Liszt, and an arrangement that's an obvious attempt to cash in on the success of Richard Harris' McArthur Park, one of the most despised records of all time. All that was missing was believable human drama. This tale of romantic betrayal by one's "best friend" was sadly juvenile for all the effort that went into this. From the fall of 1968.
•
Yesterday's Hero
– The intro sounds like he's declaring war on his own ego. Behind it is the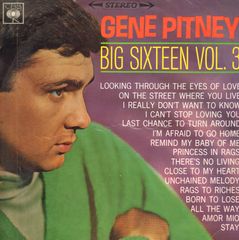 tale of psychological insecurity, adequacy by association. It's all too familiar, but sooner or later it would catch up with him, one way or another. From the spring of 1964.
•
Twenty-Four Hours From Tulsa
– This may be the most over-the-top tale of infidelity in all of pop music, and that's some accomplishment. Not only does a one-night stand turn into a lifetime commitment, but Gene walks away from a perfectly good (we have no reason to believe otherwise) relationship, for some floozy he met in a roadside diner. "One day away from your arms," he sings. How many days from her legs? From the fall of 1963.
•
Only Love Can Break A Heart
– I have heard that the best way to cure a hangover is to have more of what caused it. That's kind of the message here, though transposed to a romantic context. Indeed, "only love can mend it again." There's much to be said for time, but this isn't the place for self-help books. This syrupy ballad was Pitney's highest placing single, reaching number 2 in the fall of 1962.
•
Not Responsible
– There is something vaguely threatening about this I-can't-control-myself declaration. But Gene's take sounds positively tame compared to Tom Jones'.
•
Teardrop By Teardrop
– Heartbreak and tears, they go together like peanut butter and jam…
•
Donna Means Heartbreak
– How to depersonalize the disintegration of a relationship.
•
Aladdin's Lamp
– Aladdin himself is there in the background. Listen Gene, wishful thinking will never replace action. Get on Match.com or something…
•
The Man Who Shot Liberty Valance
– Over the top frontier drama, this was the theme from the movie, but Pitney's vocal's were not used. It's the fiddle that gives it just a touch of authenticity, and he pulls this off surprisingly well, considering how unsuited his voice is for westerns. From the summer of 1962.
•
Keep Telling Yourself
– A song about self-delusion.
•
Mecca
– They live on opposite sides of the street, but she may as well be in Mecca. I don't know, even then they had commercial flights to Mecca, no? A song about obstacles. The mid-eastern touches are kitschy and utterly charming. From the spring of 1963.
•
Town Without Pity
– Here he's encroaching on Del Shannon territory, just a touch of paranoia. One wonders what everyone is so up in arms about. From the winter of 1962.
•
Tower Tall
– A song about promises. Good luck.
•
Cry Your Eyes Out
– A revenge song, and not the song by Les Emmerson.
•
True Love Never Runs Smooth
– No it doesn't, but he is willing to go the limit. It's worth "the heartache and the pain we share" he says, but the heartache and the pain isn't what you share, it's what you endure alone. Still, at least he isn't wearing rose-coloured glasses. From the summer of 1963.
•
Take Me Tonight
– Considering the title and the subject matter, this is quite lame. Unbridled lust isn't what Gene does best I guess.
•
Half Heaven, Half Heartache
– He's got the girl he wants, but she is still hung up on the other guy. I feel your pain Gene, but give it time, and if things don't get better, give her the heave-ho. The pain in his voice as he soars on the chorus is the embodiment of how it feels not to be able to change things. From the winter of 1963.
•
I Wanna Love My Life Away
– Sounds like a plan. No need for mortgages, job interviews, hospital visits, summer camp, in-laws, etc. Just love love love. Go for it. This one-man-band performance was Gene's first hit. It barely cracked the top 40 in the winter of 1961.
•
If I Didn't Have A Dime
– A song about serendipity. There she was, the girl of his dreams, "ruby lips and golden hair, beside the jukebox." Sounds a bit sleazy to me but it's not my trip. Wistful stuff. From the fall of 1962, the flip side of Only Love Can Break A Heart.
•
It Hurts To Be In Love
– Another song about pain and unrequited love. A great drummer and a marching rhythm help it along. From the fall of 1964.
•
Oh Annie Oh
– Gene goes folk. Light that bonfire…
•
Today's Teardrops
– This is chirpy; Paul Anka couldn't have done it better.
•
Fool Killer
– Not The Mose Allison song. It's supposed to have a moral I suppose but the concept falls apart with the concept of "fool."
•
Laurie
– Not the Dickie Lee song, but, oddly, both songs are about a dead girl. This is meant to be wistful, but it's just a bit morbid.
•
Backstage (I'm Lonely)
– Another song about the lonely life of the pop star. This one is a bit mundane, Gene merely pining for his girl, with the added attraction of acknowledgement of his star status. I wonder if the crowds in real life were as big as they were in the song. From the fall of 1966.
•
She's A Heartbreaker
– Gene updated. The sound is modernized, bringing our hero into the late 60s, even giving him a bit of a soul edge, but the lyrics are typical evil woman stuff. From the summer of 1968.
•
Little Betty Falling Star
– Romance meets astronomy, and they both lose.
•
Brandy Is My True Love's Name
– And Brandy is a heck of a drink. Gene brings all the folk authenticity one can possibly stand to this ode to alcohol.
•
I'm Gonna Be Strong
– Because showing that you care, showing that you're sad, showing that this is hard for you, that's all evidence of weakness. Clearly. From the winter of 1964/65.
•
Hello Mary Lou
– His best records were written by others, while his songs were best recorded by others. Hello Mary Lou was probably the best remembered song by Ricky Nelson, and Loggins & Messina and The Statler Brothers had their various cracks at it as well.
•
I Love You More Today
– A slight country flavour informs this tale of love that gets better every day. So yesterday wasn't so hot?
•
Half The Laughter, Twice The Tears
– And here we find Gene trying hard to get into that slight-soulful mid 60s groove, and not quite getting there...
•
Lyda Sue
– A humorous look at self destruction. Ha ha ha.
•
Every Breath I Take
– Phil Spector produced this, just before he launched his own record company, and I wonder if anyone else could have made such a massive monument out of a song this slight – vocal chorus that sounds like the Vienna Mens' Chorus with sock hop fever, a string section that could be the strings of the NY Philharmonic after they had a few too many, and a drummer (probably Hal Blaine) to remind us of how serious this is – Pitney never made another record like this and neither did Spector, and thank goodness, the world couldn't stand it. Make no mistake though, this is pure genius. It was too much for most people though; it didn't get higher than number 42 on Billboard, just before Pitney hit the big time with Town Without Pity. From the fall of 1961.
•
I Laughed So Hard I Cried
– Yet another take on the crying clown theme.
•
I Must Be Seeing Things
– Yet another betrayed-by-a-best-friend drama, this may be the strangest of all. He spots his girl with his BFF (of course), manages to catch every word of their bizarre conversation, while they don't see him. He is, of course, eating his heart out. From the winter of 1965.
•
Just One Smile
– As Gene struggles with the reality of a broken relationship, he still hopes for that bandaid that will salvage it. The emotion is all too real, and so is the hopelessness that's just under the surface. BST covered this on their first album, the one with Al Kooper. From the winter of 1967.
•
Rags To Riches
– Gene's rocked up arrangement of this Tony Bennett hit works surprisingly well.
•
Born To Lose
– Known by Tennessee Ernie Ford and by Ray Charles, Gene's recording of this works better than I'd expect. Much of the credit goes to tasteful arrangement, which starts with muted acoustic guitar, bass, and drum, and which the piano then the chorus then electric guitar enter one by one...
•
Last Chance To Turn Around
– This one has Gene screaming and yelling about how he'll show her. Meanwhile I wonder why he won't have another chance to turn around. Is he driving into the ocean? From the summer of '65.
•
Amor Mio
– Gene sings love to a Mexican beauty - a song that cops the rhythm and chord structure straight from La Bamba.
•
Looking Through The Eyes Of Love
– In the eyes of the world he's a useless loser; in the eyes of his lover he's the greatest hero. Ok. I'll buy that. But what is he in his own eyes? That image, looking through the eyes of love, played out very strangely in my 8 year old mind when this was a hit in the summer of 1965.
•
Remind Her Of Me
– I think of her all the time. I want her to think of me, remember how happy we were. How the heck does he know she isn't?
•
I Can't Stop Loving You
– Written and originally recorded by Don Gibson, and a major hit
for Ray Charles, Gene's version is unlike either.
•
I'm Afraid To Go Home
– A real song that tackles the real trauma of the ravages of war. It is specifically about the Civil War but the message is universal. With this one Gene proves once and for all that he's a contender.
•
Stay
– Not the Maurice Williams song. Don't go…
•
On The Street Where You Live
– Originally from
My Fair Lady
and a hit for Vic Damone, if this weren't so hokey it might be one of the best songs about falling in love. Alas…
•
There's No Livin' Without Your Lovin'
– A journeyman love song, and a minor hit later for Peter & Gordon.
•
Princess In Rags
– One of those minor subcategory of pop song – the poor girl rich boy saga (or vice versa). The Four Seasons had a good time with it (Rag Doll, Dawn) and so did Billy Joe Royal (Down In The Boondocks) and so did Roy Orbison (Working For The Man), and so even did Jay & The Americans (Only In America). This is somewhat unusual in that there doesn't seem to be any opposition to the union. Go Gene. From the winter of '65 / 66.
•
Unchained Melody
– The Righteous Brothers had presumably not yet gotten hold of this when Gene did his take, and his take is unlike any other, with orchestration reminiscent of Ravel himself, with special kudos to the harpist. I still prefer the totally syrupy but irresistible original by Les Baxter, and this doesn't have the sheer drama of the Spector production, but this is ok.
•
Close To My Heart
– Another journeyman trip.
•
I Really Don't Want To Know
– Oh yes you do Gene, yes you do. I must have 2 dozen versions of this in my collections, and there are hundreds out there. The hit versions were by Les Paul & Mary Ford, Tommy Edwards, Ronnie Dove, and Elvis Presley. The rest is commentary. Go forth and learn…
•
All The Way
– Frank Sinatra recorded this, as did Neil Sedaka and many other respectable performers, and so the potential lewdness in the title / lyrics gets swept away. Gene doesn't bring it back out.
•
Louisiana Mama
– This ode to a Cajun beauty was Gene's follow-up to his debut, but it managed to avoid the charts altogether. Admittedly, it's dippy…