McCracklin was apparently quite prolific, wrote and recorded thousands of songs, dozens of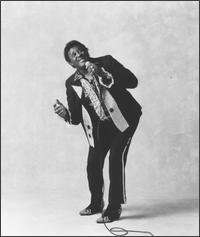 albums. He started back in the 40s, was still recording in the 90s, still performing in 2007.
Not much to show for it on the pop charts. Apparently he co-wrote Tramp, by Otis Redding & Carla Thomas. Apart from that he had 5 records on the top 100, the one here in the top 10, the others not placing higher than 64, and the songs spanned the years 1958 – 1966.
---
Jimmy McCracklin:
•
The Walk
– We had the stroll, which was a hit by The Diamonds and a dance popularized by Chuck Willis, and now as we have the walk, and the rock and roll dance is taking on a life of its own. The rhythm of this isn't exactly the kind of walk we do when go from the kitchen to the living room, or to post a letter, but with a bit of bounce and jive it works very well. A hit from the winter of 1958.