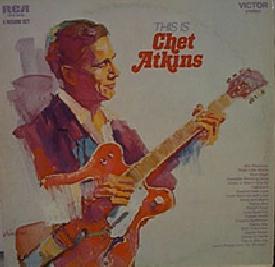 Harry and Eli were partners. Harry was good natured but high-strung and somewhat neurotic; Eli was good natured but had a harder edge; though his personal style was more laid back. In his early adult days he was rumoured to have been a country music disc jockey in northern Manitoba. I worked for those guys from 1988 until 1991.
And so it was one day that I walked into work with a bag that obviously had a couple of LPs in it. What you got there, said Eli in a tone that just barely suggested "it can't be anything good." I pulled out two collections by Chet Atkins that I'd picked up at Red River Books that morning. "Oh," he said, temporarily lost for words. Ok, he said. Not bad he said. Eli approved.
Atkins is one of those legend types. So while it's not surprising that he only had 5 top 100 hits, the highest reaching only number 49, it's quite surprising that since 1946 he only put 10 singles on the country charts. Don't look at me; I can't explain it. I have 2 double album collections here, the second of which is
This Is Chet Atkins
, and I still only have 2 of his 5 top 100 singles. I can't explain that either…
---
Chet Atkins:
•
Main Street Breakdown
•
Sweet Bunch Of Daisies
•
Chinatown, My Chinatown

•
Oh! By Jingo, Oh! By Gee
•
Country Gentleman
•
Trambone
– The Ventures covered this too.
•
Walk Don't Run
– Written by jazz guitarist Johnny Smith, and later the first hit for The Ventures. The Ventures thumped it out; Atkins version was more jazzy.
•
Slinkey
– Not The Eric Clapton song
•
Boo Boo Stick Beat
– I don't know what a boo boo stick is, but it's up front and centre in this piece. Atkins' highest placing pop single, reaching number 49 in the fall of 1959.
•
Blue Steel Blues
•
Freight Train
– A hit for Chas McDevitt Group featuring Nancy Whiskey, and for Rusty Draper.
•
Yakety Axe
– Yakety Sax on the guitar. The original sax version was a hit for Boots Randolph in 1963; Chet's version was a small hit in the summer of 1965.
•
The Bilbao Song
– A hit for Andy Williams
•
Music To Watch Girls By
– Also a hit for Andy Williams, but better know by The Bob Crewe Generation.
•
Blue Angel
– This might be the Roy Orbison hit; it's hard to tell.
•
Mrs. Robinson
– The Simon & Garfunkel song.
•
Elusive Butterfly
– The Bob Lind hit.
•
The Odd Folks Of Oraacoke
•
El Condor Pasa
– The Simon & Garfunkel hit from 1970.
•
Snowbird
– Written by Canadian songwriter Gene McLennan, a hit for Canadian singer Anne Murray. Her first real hit and to my ears her best. Chet's version has the most beautiful use of strings-as-sweeteners that you'll likely hear.
•
Black Mountain Rag
•
Knee Action
•
Three Little Words
•
Hawaiian Wedding Song
– The only hit version of this was by Andy Williams, but there have been hundreds of recordings.
•
Lady Madonna
– The Beatles' hit from 1968.
•
Copper Kettle
– Some kind of a folk / country song about moonshining. Dylan did in on Self Portrait in 1970.
•
Lara's Theme
– AKA Somewhere My Love. The Theme from Dr. Zhivago. Very popular elevator song in the 60s, and a hit for The Ray Conniff Singers.
•
Both Sides Now
– The Joni Mitchell song, a hit for Judy Collins in 1969. So many people did this, including Frank Sinatra, but it's interesting to compare Chet's version with the one done by The Nitty Gritty Dirt Band on
Will The Circle Be Unbroken
.
•
Charlie Brown
– The Coasters' hit.
•
Django's Castle
•
Ode To Billy Joe
– Bobbie Gentry's hit from 1967.
•
From Nashville With Love
– I guess this could be the title of every song he ever did.
•
Yellow Bird
– A hit for The Mills Brothers, and later for Arthur Lyman.
•
Windy And Warm
– Taken from a Ventures album about surfing.
•
Galloping Guitar
.