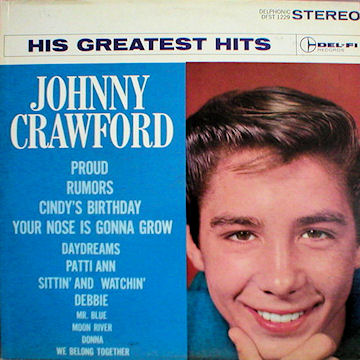 Back in the day there used to be these TV shows called "westerns." They were all about stuff that allegedly went on in the American old west, and they were full of sheriffs and cowboys and "Indians" and girls with skirts. There were horses and wagons and old towns with names like Virginia City and Dodgewood and Sagebrush Central. The shows had names like
Gunsmoke
and
Bat Masterson
and Have
Gun Will Travel
. You had to be pretty rugged to be a character in a western.
The Whitburn entry for Johnny Crawford says that he played Michael McCain in
The Rifleman
, and no matter how hard I try to imagine what kind of character this guy might have played in a western, I come up blank. Maybe he played a water pump or something.
On record he was one of those teen idol types, but without the occasional redeeming feature of a Bobby Vee or Bobby Rydell or Frankie Avalon. He was better than Fabian though, so we haven't hit rock bottom here.
This is a really old album, an old scratched up copy of
His Greatest Hits
that I probably picked up at Comic World. He didn't have enough hits at the time of its release to fill up an album, so it's filled up with OPH's (other people's hits), as was the custom of the day. Though it's not here, his last chart record hit right at the start of 1964; his chart career ended just as The Beatles' started…
---
Johnny Crawford:
•
Proud
– A confessional. If what he's saying is true, he's not just proud – he is seriously messed up. I'd say the sooner he gets into therapy the better. A bit of a sadistic streak going on, followed by not-quite-convincing breast beating afterward. A hit in the winter of 1963.
•
Rumors
– What we in the great white north call "rumours." Our Johnny protesteth his innocence, with no real indication of why anyone would want to get him in deep six with his flame. Don't believe them, he tells her, they have it in for me. Sure. I can sell her a bridge if she falls for it. From the winter of 1962 / 1963.
•
Your Nose Is Gonna Grow
– That whole Pinocchio thing is kind of unsettling. I mean seriously, what kind of subtext do we infer from body parts that occasionally change size. And if she's really two-timing the guy, shouldn't he be more serious that "the boogie man will get you?" I suppose each manages his own relationship. From the fall of 1962.
•
Cindy's Birthday
– I went to school with someone called Cindy. She was the only member of my graduating class who I never saw again. I don't know when her birthday is. Johnny, though, is quite excited about this Cindy's birthday, whoever she is, and he is pressed for time because he must write her (first verse) a symphony which is pared down to (second verse) a song. He ought to have started earlier. This was Johnny's highest placing single and only top 10, from the summer of 1962.
•
Debbie
– Debbie was the name of the only girl I ever dated who asked me to take her home in the middle of the evening. She had, I later learned, a reputation for "weirdness," though the details remain vague to this day. In other words, it wasn't me. Johnny blew it with his Debbie too, though he is desperately trying to salvage the situation. It's hopeless man, give it up.
•
Patti Ann
– A marriage proposal on record. It's been done better. From the spring of 1962.
•
Mr. Blue
– The Fleetwoods' original was wimpy and this is wimpy. But what the original had that this doesn't is charm, and that makes All the difference…
•
Sittin' And Watchin'
– Watching the hands of the clock because they (Johnny and his belle, not the clock hands) are "too young." Maybe her parents have other concerns about him…
•
Moon River
– The song can't lose, the arrangement is fine, and Johnny's voice isn't terrible, but you're not gonna forget Andy Williams any time soon…
•
We Belong Together
– Robert & Johnny did the original. Johnny does a cover. 'Nuff said.
•
Donna
– This did not make Ritchie Valens happy, up there on the other side where he can't even earn royalties…
•
Daydreams
– His first hit, lighter on the arrangement, more emphasis on vocal double tracking. The song is one big sigh, and not a particularly inspiring one. From the summer of 1961.