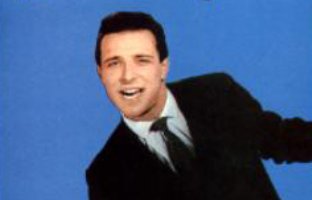 So who was Barry Mann? Let's check Whitburn. Hm. Four entries. No notes. Couldn't have been anyone significant. Of those four entries, only one made the top 10, the rest didn't make it higher than 78. Each was on a different label, and they were chronologically spread out – 1961, 1964, 1970, 1976.
I would say it was typical of Whitburn, who puts little notes after listings by artists of significance, not to acknowledge songwriters, because he doesn't say anything about Jeff Barry and Ellie Greenwich either, but then he does acknowledge Carole King. So let's just forget about Joel Whitburn.
Actually Barry Mann was an architect of rock and roll, having co-written, mostly with his wife Cynthia Weil, the following: She Say (Oom Dooby Doom), I Love How You Love Me, Blame It On The Bossa Nova, He's Sure The Boy I Love, Hungry, I Just Can't Help Believing, I'm Gonna Be Strong, Kicks, Looking Through The Eyes Of Love, Magic Town, Make Your Own Kind Of Music, On Broadway, Only In America, Proud, Rock And Roll Lullaby, Shapes Of Things To Come, Uptown, Walking In The Rain, We Gotta Get Out Of This Place, (You're My) Soul And Inspiration, and You've Lost That Lovin' Feeling. That is, of course, a very partial list.
He married Cynthia in 1961. Apparently they are still married.
---
Barry Mann:
•
Who Put The Bomp (In The Bomp, Bomp, Bomp)
– One of those self-referential songs, pop/rock about pop/rock. This is said to be satirical, but I think that through the humour and self-deprecation there is a lot of truth. As silly as some of those songs are on paper, hearing them, dancing to them, opens up worlds. And of course, the real joke is that it was Mann himself who put that bomp bomp bomp there in the first place. He wrote this one with Gerry Goffin, Carole King's then (or soon to be) husband. It was Mann's only real hit, in the fall of 1961.