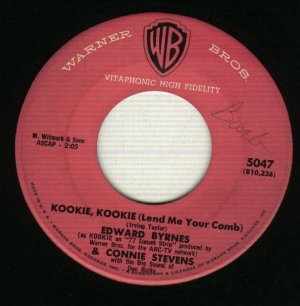 Byrnes was an actor, know as Edd Byrnes, whose most famous role was in the TV show 77 Sunset Strip, the name of which I recall from my childhood, but which I don't remember actually seeing ever. He had a follow-up to Kookie Kookie, called Like I Love You released a few months later, but beyond that he had no more hits. He did have something of a recording career, and it may be worth exploring.
Connie Stevens we will meet later.
Edward Byrnes & Connie Stevens:
•
Kookie Kookie (Lend Me Your Comb)
– Connie begs for comb, relentlessly, while Ed indulges in what is unquestionably the best beatnik jargon ever spoken on record. He was the star, at the time, of 77 Sunset Strip, which I've never seen, but I imagine he is "singing" his character here. From the spring of 1959. "I've got smog in my noggin……" and who is playing percussion?