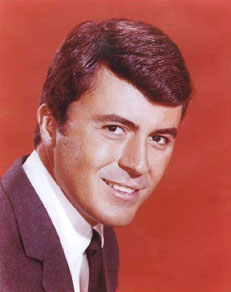 As a singer they say that James Darren was a good actor, but it could be that as an actor he was a good singer. I never saw his movies; he was in Gidget, among others, with Sandra Dee. The TV series came later; it starred Sally Fields.
This is a real cobbled together collection, singles, albums, you name it. Darren had a handful of hits between 1959 and 1962, then a fluke hit in 1967 and another in 1977.
Not to be confused with Bobby Darin.
---
James Darren:
•
Gidget
– There's always something alluring about teenage girls, and so these older guys like to sing about them. And remember, for most of this time period, in most places, you weren't an adult until you were 21. Meanwhile our hero paints a fairly vivid portrait of his love, her clothes, her height, her character, it's all here. Gidget was a TV show with Sally Field, before The Flying Nun, and before that it was a movie, a series of movies really, with Sandra Dee, and, who else, James Darren. This is Darren's first hit, from the summer of 1959.
•
Valerie
– Not The Monkees song. This was actually the A side of something, but it wasn't a hit. The song speaks of how meaningless his relationships were, until he met Valerie. I wonder what his former loves would think of that.
•
Goodbye Cruel World
– This cartoon cliché gets the best possible cartoon treatment. Jimmy is heartbroken, so he formulates a plan that will afford him the only possible cure, which includes getting shot out of a cannon. The circus trolliope (I made that word up) theme here was used again by Leo Sayer, then by Three Dog Night, in The Show Must Go On,. From the winter of 61 / 62.
•
Her Royal Majesty
– Characterizing the one who breaks your heart as royalty is surely one way to cope. From the winter of 1962.
•
Conscience
– The inner conflict between the desire to be selfish and the need to be thoughtful and caring. There's a lot going on here under the silly exterior. From the winter of 1962.
•
All
– An adult ballad, the closest he gets to the other Darin. From the winter of 1967.