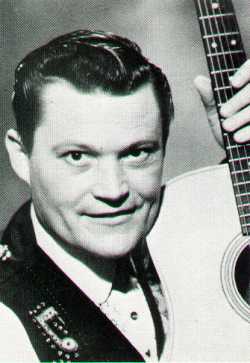 Stonewall Jackson's real name is Stonewall Jackson. He was named after the Civil War Confederate general whose real name was not Stonewall. He didn't have much of an impact on the pop charts, 4 top 100 singles in 2 years, but he had a bucketload of hits on the country charts, over a few dozen years. I looked high and low for a number of years for a collection that I wouldn't have to pay full price for, and I finally found this in the summer of 1996.
---
Stonewall Jackson:
•
Waterloo
– To the ringing banjo and bass drum we are regaled with the dismal fate of Adam (and the "apple" of course), Napoleon (gettit?) and, who was then a recent cultural reference, Tom Dooley. This very hummable but dismal tale of the weakness of human nature was Jackson's Big Hit, that was in the summer of 1959. Not the Abba song.
•
Don't Be Angry
– Not the Nappy Brown song. In simple but eloquent phrases the general tells us a tale of contrasts: how fortunate he is, and how insecure. He doesn't understand why she gets angry at his failure to understand. Frankly, neither do I.
•
Mary Don't You Weep
– A not quite martial rhythm accompanies this Civil War tale of a soldier who leaves his girl "on their wedding day." As he adjures her not to cry because "the war will soon be over," we are left with the conflict between his optimism and the reality of his death in the burning of Atlanta. From the winter of the 1960.
•
A Wound Time Can't Erase
– A man who is both mystified and bitter about being dumped. It's not clear, though, why his particular heartbreak is impervious to the healing powers of time. A hit on the country charts in 1962
•
B.J. The D.J
. – About a disc jockey with an overprotective mother. No wonder he drove so fast to work. Went to number 1 on the country chart in 1964.
•
Blues Plus Booze
– Our hero advocates against using alcohol as an emotional pain-killer. "Blues plus booze means I lose," he intones, though he mercifully spares us the details. The honky tonk piano evokes the place he's doing all the boozing in. From 1966
•
I Washed My Hands In Muddy Water
– I tried, really I did is the message in this tale of a guy who couldn't go straight no matter what. Through it all is a typical failure to take responsibility. "I fell in with bad companions." From 1965. A hit on the pop charts a year later for Johnny Rivers, and Charlie Rich had a crack at it.
•
Life To Go
– Stonewall is incarcerated (inside stone walls ha ha), apparently in a jurisdiction where parole is unknown. 18 years, he tells, us over and over, he's been there. Meanwhile, he's a normal guy, wife, kid, job, the whole routine, who just exercised bad judgment one night "where the lights were bright." They're all normal guys, all the guys in prison in country songs, and even in pop songs (Skyline Pigeon). This was his first hit, number 2 on the country chart in 1958, written by George Jones.
•
Old Showboat
– And here's where his humour kicks in. Showboat is a horse, the narrator is a rodeo rider, and when he gets his leg broken trying to break the stallion, the nurse turns out to be the cute girl in the audience. "I'm getting married," he sings, "and Showboat you're to blame." From 1963.
•
Angry Words
– From 1968. The role that anger plays, and shouldn't play, in a relationship. In the end it's all about maintaining perspective. Listen carefully…
•
Help Stamp Out Loneliness
– A female chorus and an array of fiddles help Stonewall convey this old fashioned waltz. From 1967, the year of Sergeant Pepper.
•
Me And You And A Dog Named Boo
– Lobo's hit version is a hippie odyssey; Jackson's country version, a bit more salty, falls between hippie and hobo. From 1971.
•
If This House Could Talk
– "…almost became a happy home." Pieces of your life get torn away, the physical evidence remains, and you're left to deal with the emotional fallout. From 1965.
•
Greener Pastures
– "It's really not love that you are after," he sings. A country hit and a Canadian hit in the spring of 1961
•
"Never More" Quote The Raven
– Edgar Allan Poe in the service of romantic wrongdoing and regret. From 1969. It's astounding how little his style change over the years.
•
Why I'm Walking
– He's off to see his true love with singular determination. One can only wonder what will happen at his destination. From 1960.
•
Promises And Hearts
– Both "made to break…" From 1967.
•
That's All This World Needs
– A feel-good song with a honky-tonk sensibility and a hokey children's chorus. From 1972, the year of The Candyman, which is probably no coincidence.
•
Leona
– A man confronts his wife who is having an affair, he begs, he pleads. The other man's wife, though, isn't so gentle; she shoots them dead, leaving his 2 year old "baby" calling for her mother. All this in waltz time. From 1962.
•
Smoke Along The Track
– Orange Blossom Special redux, as is probably every country song written about trains. All that singing of escape, movement, possibility. Just ask Johnny Cash. Stonewall's no slouch either. From 1959.
•
Blue Field
– A country soap opera about bootlegging and murder, reminiscent of Bobby Bare.
•
A Little Guy Named Joe
– The mother dies in childbirth, the father goes off to war, the kid is left "alone." Strange. Another tale of wartime difficulties. From 1960.