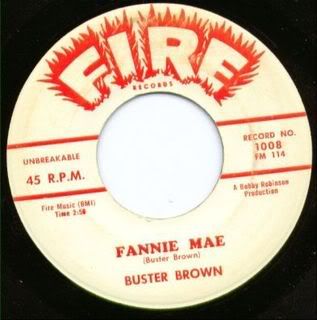 I like the idea that Buster Brown's real name was Buster Brown. Whoever wrote the Wikipedia article speculated that it was so. People seem to be able to find these things out; I wonder why the information for Mr. Brown is not available.
Buster is an interesting first name. Edith Anne (Lily Tomlin's character) had a dog named Buster.
In any case, the Buster Brown that we are concerned with was neither a pair of shoes nor a comic character. Whoever he was, he managed to put 3 records into the Billboard Hot 100, two in 1960 and one in 1962.
Buster Brown:
•
Fannie Mae
– This song cuts a groove that's 10 miles deep. "Won't somebody," asks our hero, "tell me what's wrong with me." Nothing's wrong with you pal, just keep rocking. The first time I heard this it was by Southside Johnny & The Asbury Jukes, a group of Bruce Springsteen wannabes. From the winter of 1960.