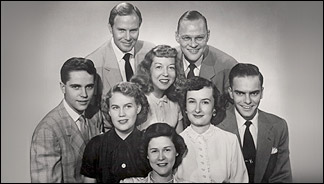 My parents were never big into music, although they did give all of us music lessons – piano for the girls, guitar for me. It was very rare that either of them – and by "either" I mean my father, I don't remember my mother doing it ever – would sit down and listen to music.
They had a record collection that was fairly small. I remember some of what they had: John Charles Thomas, Caruso, Mario Lanza, The
Fiddler On The Roof
original caste recording with Zero Mostel,
The Sound Of Music
soundtrack, Tchaikovsky's 5th symphony, Scheherazade by Rimsky-Korsakov, Gershwin doing Rhapsody in Blue and Concerto in F. I think they had 90% of that collection by the time I was born; it was a rare day when they would add anything.
I do remember, though, my father coming home, perhaps from a trip across the border, perhaps from a trip downtown, with an album by The Anita Kerr Singers. I'd never heard of them. It was an LP of vocal chorus performances of pop hits of the day, early 70s stuff; I only remember Blood Sweat & Tears. What do you think, he said, after playing a few tracks. Not as good as the original versions, I proclaimed, ever the critic. What do you expect, he said, it was only 99 cents? To him, the quality / cost ratio factor was obvious.
Having picked up, in my time, brand new copies of albums like
Open Road
by Donovan,
Coming Of Age
by The Five Man Electrical Band,
Fragile
by Yes,
With A Little Help From My Friends
by Joe Cocker, each for under $2.00, that aspect of critical analysis has not held up. And of course, the criteria for critiquing some particular song or LP (ok, CD) would vary from listener to listener, depending on what one paid for the merchandise. And don't forget, professional critics pay nothing for their copies.
What does this have to do with The Little Dippers? They were The Anita Kerr Singers, that's what. Kerr was incredibly active in the music world, and if you want details you can google her as well as I can, but her group of singers only ever had one hit, and that was as The Little Dippers. No idea why the name…
The Little Dippers:
•
Forever
– Not the Marvelettes hit, which was also magnificently performed by Marvin Gaye. This Forever was a hit a few years later, in a steel guitar instrumental version, by Pete Drake. It's country flavoured, a simple love song, fairly generic, and this recording works as background music, perhaps in an elevator, but I wouldn't elevate it to dance room status. From the spring of 1960.