Record labels, collectors take them very seriously. To dilettantes like me they are a matter of curiosity and historical interest. Some have distinct musical styles; Motown comes to mind obviously, and there was the gutbucket soul of Stax, teen pop of Dot, Atlantic soul and Atlantic jazz. The Beatles were on Capital, and so were a number of British invasion bands, so we got to identify those swirling colours on the label with Merseybeat.
And so it is that label-wide anthologies make a certain sense. Decca did a several decades collection of its country hits, RCA did jazz, Atlantic has release more various-artist R&B anthologies than you can shake a proverbial stick at. Small companies do this too (though by the time the CD comes out, the label has long since been purchased by one of the global conglomerates, often through several layers of corporate reality).
I got my Maxine Brown collection (all 6 songs of it) from a collection called
The Scepter Records Story
. This was a label whose music was aimed squarely at the teen market, no crooners please. The most successful and best known early act was The Shirelles, but they also had The Kingsmen (on Wand, same company), Chuck Jackson, and Maxine Brown. Then they had Dionne Warwick and B. J. Thomas.
Maxine had 11 solo hits (plus 4 with Chuck Jackson) and the three biggest are here; for some reason the compilers threw two non-hits on here and left off 8 of the chart singles. I'll never understand why they do things like that.
---
Maxine Brown: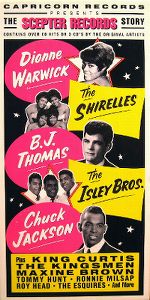 •
All In My Mind
– The arrangement of this is similar to the adolescent pop of Rosie & The Originals or Kathy Young & The Innocents, but Maxine was a real R & B vocalist. She sings here not just of insecurity, but of a premonition of bad times, and while she dismissed it with the adage that it's all in her mind, just one listen to the edge in her voice tells us that's she's right all along. From the winter of 1961.
•
Funny
– "Every time I pass your door," she sings with incredible melisma on the word "door." Do they not share a bedroom? Funny, I'll say. From the spring of 1961.
•
Since I Found You
– Her performance is a bit flat on this tale of starry eyed romance.
•
Oh No Not My Baby
– Denial writ large. From the winter of 64/65. Rod Stewart covered this while he was still cool.
•
Baby Cakes
– Really.