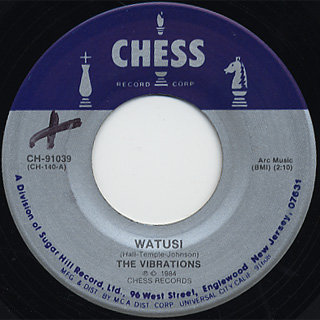 I have other stuff to write today. You'll have to figure out The Vibrations on your own. Good luck.
---
The Vibrations:
•
The Watusi
– There've always been songs about dancing and dances, but it took The Twist to make the world safe for rock and roll dances. The Watusi was one in a series, the hucklebuck, the jerk, the monkey, the boogaloo, the shingaling, the bus stop, the pogo stick, etc. I don't know how one does the watusi, unless the
Addams Family video
is accurate. The Orlons and Ray Barretto also had watusi hits. The Vibrations' record reminds me of no one so much as Hank Ballard, the original purveyor of the twist. From the winter of 1961.
•
My Girl Sloopy
– An earlier version of a song that became better known by The McCoys as Hang On Sloopy, but The Vibrations got there first. The Yardbirds covered this arrangement. If I had to pick a version to dance to, this would be it. Class consciousness creeps into pop music. From the spring of 1964.