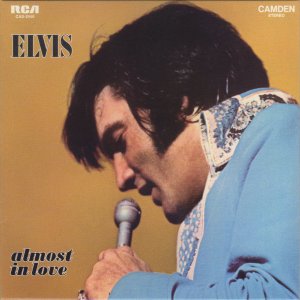 I was at HMV Superstore recently, and I checked the Elvis CDs available, and I realize how out of date I am. There are so many new collections: Elvis' country recordings, Elvis' R & B hits, Elvis sings gospel, Elvis sings corny, Elvis sings crap. There is no end. None of it makes much sense.
I remember Capital releasing a collection of love songs by The Beatles, and a companion collection of rock and roll songs, and thinking about how they totally missed the point. And the same is true of Elvis. One of the great things about him was his versatility; In the same TV show, he could scale the heights of If I Can Dream, and plunge to the morass of Memories. Listen to
King Creole
next to
Double Trouble
(hint: the latter has Old McDonald.) And what he does really is that he transcends all these boundaries – when he does country it's Elvis, and when he does R & B it's Elvis, and when he does a ballad it's Elvis, and when he does…
---
Elvis Presley:
•
Puppet On A String
– This protestation of total malleability is surely one of the most beautiful records Elvis ever made. Totally ignored by the pundits, here is one where everything just coalesces – Floyd Cramer's piano, The Jordinaires, Elvis' voice. It was from
Girl Happy
, and a top 20 hit at the end of 1965.
•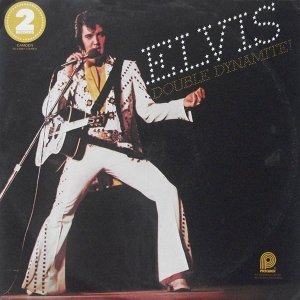 Crying In The Chapel
– Elvis sings here of the power of prayer. In so doing, he takes a faux gospel song written by Artie Glenn, and a hit originally in 1953 for Sonny Til & The Orioles, and renders it more authentic sounding than it was ever meant to be. The song was recorded in 1960, but not released until April, 1965, with I Believe In The Man In The Sky slapped onto the B side. It didn't appear on an album until 1967's
How Great Thou Art
. It was a top 5 hit in the summer of 1965.
•
Santa Lucia
– A track from
Elvis For Everybody!
. The album title kind of reflects the efforts that RCA and Colonel Parker were making to transform Elvis into a family entertainer.
•
Tell Me Why
– This is one that Gale Storm did. It's not the one that The Four Aces did, nor the one that The Beatles did. Tell my why pop songs assume that one can never get over a lost love. A hit of sorts early in 1966.
•
Frankie And Johnny
– A hit for Sam Cooke, and hit for Brook Benton. Bob Dylan recorded it as Frankie And Albert. Elvis' version was a hit in the spring of 1966. I don't remember hearing this, nor any of the other Elvis songs on this list so far, except, maybe, Crying In The Chapel. Elvis' version is a Hollywood version, which is no coincidence; it is the title track from the movie, and the soundtrack album.
•
Down By The Riverside / When The Saint Go Marching In
– On the one hand it's not surprising at all that Elvis did The Saints; on the other hand it is. I can't explain it more than that. This is from
Frankie And Johnny
.
•
Love Letters
– Elvis does a super straight reading of this song that was a hit for Ketty Lester in 1962. It was a hit in the summer of 1966, but the album
Love Letters From Elvis
did not come out until 1971.
•
Spinout
– The title track of the movie, and the LP, was a hit in the fall of 1966. It reached number 40 on Billboard, so I guess it was a top 40 hit. Romance as a car race…
•
All That I Am
– A quiet starlit night. This is a ballad that works. There are strings on this, which isn't so amazing, except that so few Elvis records had strings on them. This was the B side of Spinout, and it reached number 41 (dang!) in the fall of 1966.
•
Tomorrow Is A Long Time
– Here's where the whole Elvis phenomenon reveals itself for what it was. This is a heartfelt, beautifully arranged, sung, and recorded performance of Dylan's song, and RCA tacked it on to the end of the
Spinout
soundtrack (it wasn't in the movie) and left it there to languish, after which Elvis went back to the movie stuff. Anyone else would have parlayed a career out of it. Dylan recorded a live version of this around 1963, and that's the version that turned up on his
Greatest Hits Volume 2
in 1971. Glen Yarborough did this also.
•
Indescribably Blue
– Yes, very sad. How I miss you, sings Elvis. That's a real thing, the indescribably blue thing. I'm not sure this song really captures it though. From the winter of 1967.
•
Fools Fall In Love
– A hit for The Drifters about 10 years earlier. Elvis' version is jazzy, I like The Drifters better, really. This was the B side of Indescribably Blue, and, unlike The Drifters' version, it did not make the charts.
•
Easy Come Easy Go
– This was from an EP released in the spring of 1967. Elvis was still in the musical wilderness. This is not the Bobby Sherman song, which I think was actually better than this…
•
Long Legged Girl (With The Short Dress On)
– Elvis reduced to total salaciousness. From the summer of '67. From
Double Trouble
.
•
I Love Only One Girl
– Dumb. From the soundtrack of
Double Trouble
. That should tell you something.
•
You Don't Know Me
– From the soundtrack LP / movie
Clambake
. Jerry Vale's big hit from 1956, redone by Ray Charles in 1962, was minor hit for Elvis in the fall of 1967. I like Jerry Vale doing this; for my money Elvis doesn't quite nail it.
•
Big Boss Man
– Elvis does Jimmy Reed, and he does it well. Getting back into his element here. The A side of You Don't Know Me, hit the charts at the same time. Also from
Clambake
.
•
Guitar Man
– One book lists this as one of his best records, one lists is as one of his worst. The lead guitar, if I remember, is by Jerry Reed. Elvis postions himself as a rock and roll performer. Imagine. From the winter of 1958. Another track from
Clambake
.
•
Stay Away
– From the spring of 1968, B side of US Male.
•
U.S. Male
– Elvis posturing as the ultimate macho man. From the spring of 1968.
•
You'll Never Walk Alone
– Elvis oversings this. Big time. I've never been quite clear on whether this is actually a hymn. It was a hit for Gerry & The Pacemakers in 1965. Elvis' version reached number 90 on Billboard in the spring of 1968.
•
Almost In Love
– Almost In Love reached the great height of number 95 in the fall of 1968. I don't know, to me it sounds like one of the great unrecognized Elvis performances, a superb night club atmosphere, great vocals, wonderful ambience. This is from the movie
Live A Little, Love A Little
.
•
A Little Less Conversation
– The B side of Almost In Love did somewhat better, reaching number 69, but it was revived and remixed a few years ago, in one of those pathetic attempts to milk the repertoire.
•
If I Can Dream
– Enough has been written about Elvis' 1968 comeback. I won't add to it. But I remember this song. I remember hearing it on the radio. This is where my personal relationship with Elvis started. The song blew me away when I was 10 years old. And I hear it now, and it blows me away now; the power of it astounds me, and whoever had the idea of putting an organ so high the mix was brilliant. Truly shiver worthy. The world, though, wasn't ready for Elvis to come back; the song only reached number 12, which was better than Elvis had done in a long time, but not better enough. That was in early 1969.
•
Edge Of Reality
– The B side of If I Can Dream. This song didn't make the pop charts, and one can understand why. This is about obsession bordering on madness, that place where someone finds an odd place in your heart, not the normal place, some place that makes no rational sense, a place you didn't even know existed until *someone* takes up permanent residence. On another level, the title could refer to Elvis' life… From the movie
Live A Little, Love A Little.
•
Too Much Monkey Business
– This lost treasure comes from
Singer Presents Elvis Singing Flaming Star And Others
, a budget release from late 1968. Elvis sings this Chuck Berry standard in his "late 60s" voice, but it works.
•
All I Needed Was The Rain
– From the same LP. Just when you thinking nothing else can go wrong…
•
Memories
– This was the pap that ended one of the great historical moments in music history, on his "comeback" special. It's the song that's pap; still, it's hard to believe that Elvis couldn't do it better than this. It was a hit in the spring of 1969.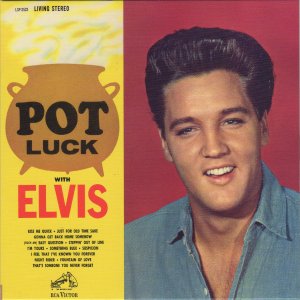 •
Charro
– The B side of Memories, and the title track from the movie. I remember this movie; it was a western, and it was about honour and revenge. It wasn't the worst movie Elvis ever made. The story was typically dumb, but Elvis was good, as I remember.
•
In The Ghetto
– Elvis does social commentary, very unusual. The song was written, and recorded at some point, by Mac Davis. Reached number 3 in the summer of 1969, the biggest hit Elvis had had for many years. It was the closing track on
From Elvis In Memphis
.
•
Any Day Now
– The B song of In The Ghetto, originally a hit by Chuck Jackson. A tale of the inevitability of separation, it's fairly odd, but real. Elvis sings it beautifully. Also from From Elvis In Memphis.
•
Clean Up Your Own Backyard
– Oddly, I will always associate this song with Los Angeles, because it was on an LA radio station chart that I first became aware of this song. I heard it on the radio, maybe twice. This bluesy morality tale of he has no sin was a hit in the late summer of 1969. It came from a movie called
The Trouble With Girls (And How To Get Into It).

•
Suspicious Minds
– Mark James wrote this, the same guy that wrote Hooked On A Feeling, and it was Elvis' last number 1 record. That was in the fall of '69. The power in this is indescribable. Somewhere about a third of the way into the song, that distinctive guitar figure that opens the record gets buried, and it never gets rescued. If I'd have been the arranger, I'd have brought it back.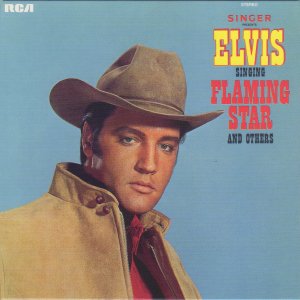 •
You'll Think Of Me
– Elvis was on a streak. Another song about failed romance, where Elvis delivers. Even the sitar works.