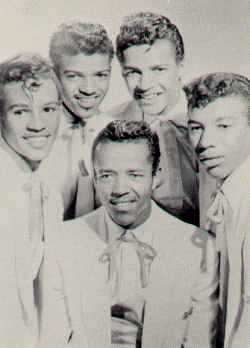 Apparently these guys were 4 brothers and a friend. How Beach Boys is that. Besides these 2 songs they had "A Girl Has To Know" in the fall of 1962.
I got I Understand off the single, which I don't remember where I bought it. Then Ka Ding Dong is on the Doo Wop Box. And so this is really a virtual collection, one song an MP3, one on cassette. [By the way, the video for Ka Ding Dong is above average - check it out.]
---
The G Clefs:
•
Ka Ding Dong
– I have a version of this by The Crew Cuts, but this is better. From the fall of 1956.
•
I Understand (Just How You Feel)
– A gracious leave taking, incorporates Old Lang Syne, and covered by Freddie & The Dreamers. From late 1961.