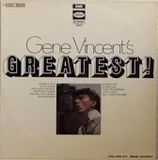 Eaton Place is, according to Wikipedia, and where would I be without Wikipedia, now called Cityplace. It was, is I guess, a downtown shopping centre, and it occupied the south part of the block on which Eaton's was situated, and one more square block besides that.
And that's where the record store was where I bought
Gene Vincent's Greatest!
. I'm thinking it was called Music City but it wasn't. Sound City? That doesn't sound right either. Maybe it'll come to me in a future post. Keep reading.
This was the standard Gene Vincent collection for years and years. Three of his five top 100 singles are on here, all from his days on Capital, but those were his hit making days, anyway.
---
Gene Vincent:
•
Be-Bop-A-Lula
– One of the great anthems of rock and roll, typical "she's my baby" nonsense lyrics, kind of like rockabilly Little Richard. A hit in the summer of 1956, and covered later by The Everly Brothers and by John Lennon, among hundreds of others.
•
Little Lover
– Is she really little, is she very young, does he just call her "little" as a term of endearment?
•
Race With The Devil
– These lyrics are all but indecipherable, perhaps they would make Mick Jagger proud, but it seems that they are yet another excuse to make some great rockabilly. From the autumn of 1956.
•
Important Words
– A ballad about communication and the importance thereof, in a romantic context, too.
•
She She Little Sheila
– Her hair is brown, and she's the best lookin' girl around, but I don't know much else about her from listening to this song. All the Sheilas I've known have been much much older than me, an aunt, someone's mother, that kind of thing. And no, none were Australian.
•
Woman Love
– Gene is a basket case, that's how bad he needs "woman love." This isn't as over the top as it sounds, really…
•
Maybelline
– The Chuck Berry song. Honestly, Vincent doesn't add much to it. Johnny Rivers does more. But then it never hurts to hear this one more time…
•
Blue Jean Bop
– Let's dance…
•
Lotta Lovin'
– This where he goes into overdrive. Heavy on the staccato, light on profundity, from the fall of 1957.