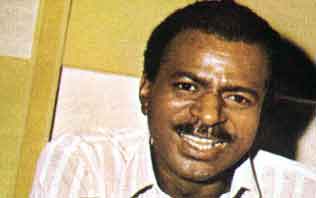 His big moment in the sun was not the 2 hits he snuck into the charts in 1958; it was his appearance as co-writer and producer of Let's Get It On By Marvin Gaye.
Townsend was a rarity, an r&b singer who appeared on a major label, Capital as it happens. He had, as I say, 2 hits, and here they are…
---
Ed Townsend
•
For Your Love
– "For your love," sings Ed, in a plaintive ballad style, "I would do anything." No Ed, you wouldn't, but it's nice to hear you say so. "More foolish I grow," he sings in his mannered style. Covered by Peaches & Herb, and not The Yardbirds song. From the spring of 1958.
•
When I Grow Too Old To Dream
– A song from 1934, with lyrics by Oscar Hammerstein II. I guess the song is given a slightly R & B treatment here, but it doesn't escape its tin pan alley origin. Linda Ronstadt did this, and I think I like her vesion better. From the autumn of 1958.