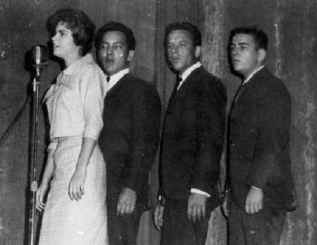 See, now here's something different; they had 2 hits in the top 40, and a third that didn't make it. That third was Magic In Your Eyes from the fall of 1961. The Innocents also recorded without Kathy. They are not to be confused with Innocence, a completely different group.
---
Kathy Young & The Innocents:
•
A Thousand Stars
– Living up to her name, Kathy sounds very young, though not too young to be singing about teenage romance, which is what she is singing about. The Innocents hum and hum behind her (they are male), the arrangement is very muted, the song is a ballad, and you can feel the warm evening breeze and see the stars of which she sings, the ones in the sky and the ones in her date's eyes. I wonder if teenage dating ever really feels like this. From the winter of 1960 / 1961.
•
Happy Birthday Blues
– Birthdays were a popular subject in the annals of teenage romance songs, and most often they are downers; think of Happy Happy Birthday Baby by the Tune Weavers. This is a downer too. Some dude (an Innocent, one assumes) takes the lead vocal off the top, but Kathy takes over quickly. And of course the birthday is her 16th. From the winter of 1961.