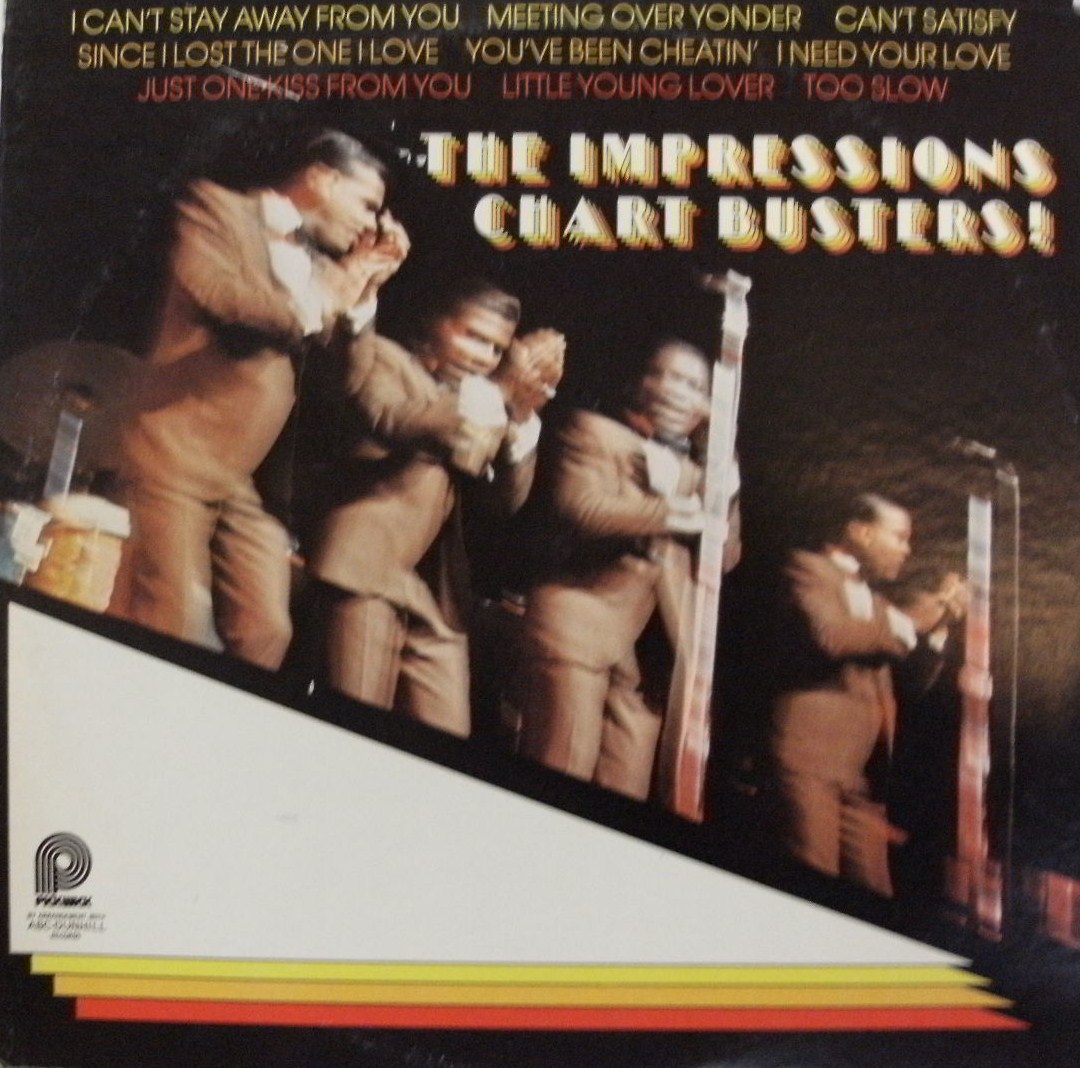 This has been all about discovery. Friends talk to me about finding new stuff, listening to new sounds, discovering unheard delights. My discovery has been about what was going on that I didn't hear, back when I was listening to radio. It's been about what went on before I was old enough to listen.
Reading my trusty guide books, I found that The Impressions had 39 top 100 singles between 1958 and 1975. 17 of those were in the top 40, 9 of those from 1965 on. But I grew up without hearing a single recording by The Impressions. I can't swear to that of course. But I was totally unaware of their existence.
Did the local radio stations not play them? Not so. I know that from a copy of an old CKRC chart in John Einarson's
Shakin' All Over
. People Get Ready, it was right there in the top 40. I didn't hear it, honest I didn't.
The first Impressions album I picked up was called
Chartbusters!
; it had about 9 tracks, none of which were particularly big hits, but a few years later I got a
Greatest Hits
album, with the big ones, and it was the first time I'd heard any of them. I remember when Brian Hyland put Gypsy Woman on the chart in 1970; I had no idea where he'd gotten it from.
Chartbusters came from Woolco, it was from one of those boxes I described in an earlier post. The Greatest Hits LP was from Country Music Centre.
And it's all the more amazing considering what a huge impression The Impressions made on the musical atmosphere of the 60s; they were the truest purveyors of the gospel spirit that imbued all of soul music of that period, but which was so often buried under the gloss.
So be it, I did discover The Impressions, belatedly but still… Besides the 2 albums I mentioned, some of these tracks come from the CD
Anthology
which I picked up at Centennial Library.
The Impressions:
•
For Your Precious Love
– The Impressions first hit was by Jerry Butler & The Impressions. That wasn't the intention, and it caused so much rancor that Butler left. He went solo, and so did the group, though apparently the feud did not last. Now what this is is an amazing slow dance romantic ballad, and the lyrics are pretty much by-the-book love song lyrics. The delivery, though, is something else again. This, for me here, is likely a bastard track, because it seems that I have an early remake by Jerry Butler on Vee Jay, but it's hard to tell, so I leave it be, and chance that I will end up in record collector hell. The original record was a hit in the summer of 1958.
•
Gypsy Woman
– Interesting ethnic noodling. Dumb, in a way, but it works on an atmospheric level, and the refrain ("she was a Gypsy woman…") hits home. Remade by Jay & The Americans, and Brian Hyland put it back on the chart in 1970. A hit in the winter of 1961 / 1962.
•
It's All Right
– A soul anthem. The closest you can come to a secular hymn. From the fall of 1963.
•
We're A Winner
– Racial pride up front and centre. The musical language is still very gospel. From the winter of 1968.
•
Woman's Got Soul
– From the spring of 1965. The title represents the biggest compliment they could bestow.
•
Keep On Pushing
– Another song of racial pride. The lyrics weren't nearly as overt as they'd become just a few years later, but it was obvious enough. From the summer of 1964.
•
Amen
– Finally, and out and out hymn, and a Christmas one at that. Teegarden and Van Winkle redid this in 1970 as God Love And Rock And Roll, without so much religion. From the winter of 64 / 65.
•
I'm So Proud
– "I'm proud to be your partner" is the message. "I'm so proud of being loved by you." Being with an amazing person can make you feel like that. This ballad was a hit in the spring of 1964.
•
People Get Ready
– Surely their most covered song. Another hymn. The message of salvation is delivered with a gentleness that is its own reward. "You don't need no ticket, you just thank the Lord." From the winter of 1965. As I say, there are covers galore, notably Sonny Terry & Brownie McGhee, The Chambers Brothers, Bob Dylan.
•
Talking About My Baby
– Falling in love makes you want to talk about the person with whom you are falling in love. Not much fun for those around you, ordinarily, unless you happen to be a singing soul trio. From the winter of 1964.
•
You Must Believe Me
– There's always something a bit off in songs like this, something a bit dysfunctional perhaps. When a relationship has reached this stage, the song is about more than some incident of miscommunication. From the fall of 1964. Covered by Johnny Rivers.
•
Little Young Lover
– A rather generic song about unrequited love, from the perspective of a (presumably) high school student. From the summer of 1962.
•
I Need Your Love
– This is an old track with, by the sound of it, Jerry Butler singing, and it's a bit of For Your Precious Love redux. It's rare to hear anything by The Impressions with Jerry Butler on it.
•
Too Slow
– A song about fear of commitment, but it's the woman who is afraid. Our narrator doesn't have much patience. From the spring of 1966.
•
Since I Lost The One I Love
– Since I Lost My Baby redux. The Impressions didn't usually ape Motown so obviously. From the winter of 1966.
•
One Kiss From You
– "All I need," says our hero, "is just one kiss from you." Not true, but it matters not. Thom Bell was listening carefully, and here is where the style of The Sylistics came from. From the fall of 1966.
•
Meeting Over Yonder
– A song about a revival. Think Brother Love's Traveling Salvation Show by Neil Diamond. From the summer of 1965. Imagine.
•
You've Been Cheating
– The arrangement on this is more Motown redux: the strings, the tambourine. The lyrics say "I'm trying to forget" but the song is doing anything but. Even when they are angry, The Impressions are nothing but smooth. From the fall of 1965.
•
Can't Satisfy
– Reminds one of Motown again, This Old Heart Of Mine perhaps, but Curtis Mayfield was in a league of his own. The tale of a man frustrated by unrealistic expectations. From the fall of 1966, about half a year after the aforementioned Isley Brothers record was a much bigger hit.
•
I Can't Stay Away From You
– "Please release me, let me go…" said someone else in another song. This is another song of romantic inertia, from the fall of 1967.
•
I'm The One Who Loves You
– She always goes after the wrong guys, but the guy who loves her, well, he's, you know, just a friend. An old story. From the winter of 1963.
•
I Need You
– A song about the specialness of that special someone, no one else will do. It's alright if that special someone is available, not so healthy otherwise. Not The Beatles song, which was recent then, and not the America song, which wouldn't exist for almost a decade. From the fall of 1965.
•
I Loved And I Lost
– A song of, well…, loving and losing. "It's better to have loved and lost…" No so clear from this song. From the summer of 1968.
•
We're Rolling On (Part 1)
– Another chant of pride. This one is from the spring of 1968.
•
Fool For You
– There's a double meaning here, and they are both up front and centre. One of the group's best love songs. From the fall of 1968.
•
This Is My Country
– I would say that this was openly defiant, but the message is delivered with such a smooth soul that it was ok to play it on the radio. From the winter of 1968.
•
Grow Closer Together
– This tale of (paternal?) advice, otherwise a Gypsy Woman soundalike, is from the winter of 1962.
•
Choice Of Colors
– The Impressions go political, in your face political. But they don't sacrifice the groove. From the summer of 1969.
•
A Sad, Sad Girl And Boy
– A sad tale indeed, from the summer of 1963.
•
Check Out Your Mind
– Just before Curtis Mayfield bailed, The Impressions went modern, not quite psychedelic, but in the same universe as, say, The Temptations doing Cloud Nine or Psychedelic Shack. From the summer of 1970.