I don't have to tell you about
Argy's

,
because you can read about it on the web. I found it not long after it opened, it wasn't so far from where I worked for a year, that was 1983 – 1984, and mostly what they sold was records.
They got out of the record business, Ray did, that was the owner, Ray, later, 1989 to be exact. They concentrated on collectibles, cards, comics, that kind of thing. That was after he moved. But it was fun while it lasted. And he may have gotten back into vinyl, if the web site is an indication.
And there was this one time, there was this one time, I guess he bought out an estate or something, it was a shipment that came from the States, he told me, and I would have known anyway by the record labels, and he'd picked up hundreds of old 45s, hundreds.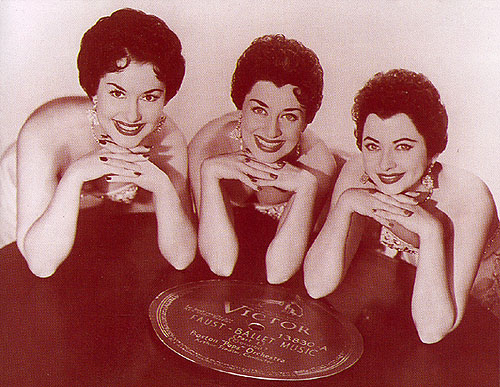 I picked up a handful, one of which was "Teach Me Tonight," a scratchy old 45 by the DeCastro Sisters. They were Cuban, apparently, and one of so many sister groups that were popular in the 50s (deJohn Sisters, Fontaine Sisters, Lennon Sisters, Dinning Sisters – all deriving their style more or less from The Andrews Sisters).
This is the only song I have by them. They had a follow up called "Boom Boom Boomerang," but I don't have it. Alas.
---
The DeCastro Sisters:
Teach Me Tonight

– there is something not quite healthy about this, and I don't think it would pass muster in today's world. "Should the teacher stand so near my love?" Ah but the world was so innocent back then wasn't it.

Wasn't it?

George Maharis covered this in 1960.