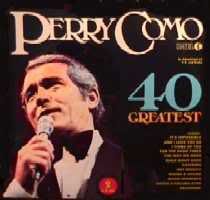 Now this is exciting. This is where my personal memory kicks in. This is where snippets of songs conjure up personal recollection, and the ghost of Marcel Proust hovers over the proceedings.
I also remember that we had at least two Perry Como albums around, one was
The Perry Como Wednesday Night Music Hall
, and there was one other, they were my father's though I don't remember him listening to them, not even once, and the LP where most of these tracks come from was called
40 Greatest
– it was a joint release on RCA and K-Tel – and my sisters bought it as birthday present, also for my father, and I do remember him listening to it, maybe once, and not all of it.
But more than that, I remember hearing Perry Como on the radio, he had a few hits, late 60s, early 70, and so I remember hearing them.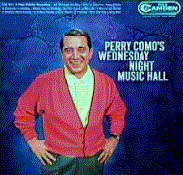 I have 30 tracks here from the 40 Greatest, and 7 tracks that I took from various other LPs, which I'm sure I picked up at Pyramid, and maybe one tape which I think was from the Centennial Library.
Some of these tracks go back to the 40s, but after 1955 Como had 48 top 100 singles, and I have 20 of them here, plus one that only showed up in the UK top 20.
---
Perry Como:
•
Papa Loves Mambo
– Como's contribution to the Mambo craze, this was a hit as 1954 became 1955
•
Kewpie Doll
– Perry takes his chick to the amusement park, contrast "County Fair" by The Beach Boys. This was from the spring of 1958, reached number 6 on Billboard
•
Tomboy
– Contrast The Beach Boys again – "Hey Little Tomboy." From the spring of 1959.
•
Dance Only With Me
– This was a top 20 hit in the spring of 1958, and the B side of "Kewpie Doll."
•
Glendora
– He's not too sure about her, there is a hint of promiscuity about. A top 10 hit in the summer of '56, about a girl with a name I've never know anyone to have. This was a B side. The A side was "More."
•
Moon Talk
– This is from the autumn of 1958.
•
Tina Marie
– I've certainly never known anyone called Tina Marie, and the only Tina I ever knew, besides the character who played Ginger on
Gilligan's Island
, and Tina Turner, whom I don't know personally, was a therapist who worked with one of my kids for a while. Another top 10 hit, this one from the fall of '55
•
Magic Moments
– not to be confused with "This Magic Moment" by The Drifters / Jay & The Americans, this was top 5 hit in February '58.
•
Caterina
– No I've never known anyone named Caterina either. This was from the spring of '62.
•
Catch A Falling Star
– Put it in your pocket… this reached number 1 early in 1958.
•
I Know
– I know how it feels when life sucks, sings Perry. From the summer of '59, this only made it to number 47.
•
When You Were Sweet 16
– Way early, from the 40s
•
I Believe
– So many people had a crack at this hymn type song; check out Frankie Laine, and The Rascals did it in the late 60s.
•
Try To Remember
– A 60s MOR staple that doesn't seem to have been a hit for anyone. The first time I heard it, it was by Robert Goulet
•
Love Makes The World Go Round
– Not the Deon Jackson song, and not the Paul Anka song. This was a hit in the fall of '58
•
Prisoner Of Love
– You only really have to hear James Brown do this.
•
Don't Let The Stars Get In Your Eyes
•
Hot Diggity
– This very silly song reached number 1 in the spring of 1956, displacing "Heartbreak Hotel."
•
Round And Round
– Another number 1 hit, this time from early '57, the time of my personal birth
•
If I Loved You
– This song is kind of maudlin, but it speaks to me right now. It's from Carousel, by Rogers & Hammerstein and it was a hit in the 60s for Chad & Jeremy
•
Hello Young Lovers
– This is indeed the Paul Anka song
•
Delaware
– An oh so funny song, which was a kind of hit in early 1960, Como sings it straight, like he doesn't realize that it's a joke.
•
Moonglow
– This was a hit in 1955 for many recording artists, but Perry Como wasn't one of them.
•
Killing Me Softly
– Jumping ahead here, the song by Gimble & Fox about Don McLean, and a hit by Roberta Flack in 1973.
•
More
– Reached number 4 in summer '56, not the theme from Mondo Cane that so many people recorded and which was a hit for Kay Winding.
•
Dear Hearts And Gentle People
– A slightly jazzy take on this, which was more associated with Bing Crosby, and which was a hit of sorts for The Springfields in the early 60s
•
I Love You And Don't You Forget It
– From the summer of '63, this is kinda silly
•
And I Love You So
– The Don McLean song that we heard by The Four Aces, Como actually put this on the chart in the spring of 1973, though I don't remember hearing it.
•
For The Good Times
– Perry does Kris Kristoferson, who'da thought. This did not make the Billboard top 100, but it reached the top 20 in the UK in the fall of '73. It was a hit by Ray Price.
•
Close To You
– The Carpenters' hit from 1970, written by Bacharach & David
•
Seattle
– I remember this one, a hit in the spring of '69 and, if I'm not mistaken, featured on a TV show called Here Come The Brides, which had Bobby Sherman in it, and David Soul. That summer, '69, I was actually in Seattle, and I remember my sister looking up and saying these are not the bluest skies…
•
Tie A Yellow Ribbon
– A biggie by Tony Orlando & Dawn
•
Walk Right Back
– A hit by The Everly Brothers, and later by Anne Murray
•
What Kind Of Fool Am I
– A hit by Sammy Davis Jr. and less so by Robert Goulet, and not by Perry Como at all
•
Days Of Wine And Roses
– A Henry Mancini song, and a hit by Andy Williams
•
Where Do I Begin
– This is the theme from Love Story, also a hit by Andy Williams, and by Henry Mancini, and by Francis Lai.
•
It's Impossible
– My favourite here. I remember this one, it was on the top 40 in late 1970 / early 1971, but it was too syrupy to get played very often. Elvis did it, but I actually prefer Como…