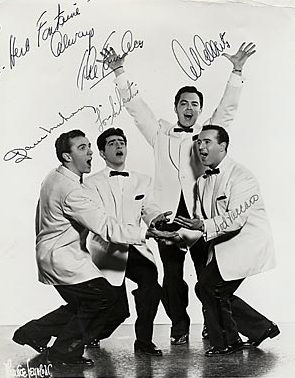 My kids had a book, it was a "Little Critters" book, When I Get Bigger by Mercer Mayer. The little critter character kept saying what he'd do when he got a bit bigger, and one thing I remember is "I would order something from a catalogue, and it would come in the mail."

And that's how I got The Four Aces; I ordered it, and it came in the mail. It was a mail order house for books really, and there were a few pages of records and tapes, and I ordered a few, and that's it.

Except for "A Woman In Love;" I got that on an LP called Love Is A Many Splendored Thing, which was another treasure that I found for $1.25 at Woolco.

And this tape, it's called Timeless Treasures, or maybe that's just the name of the series, or maybe both. It's a bit bizarre, just over half the songs seem to be original recordings they made in the 50s, the rest were recorded in the 70s, and I'm guessing by the vintage of the songs themselves. Most of the old songs were from before 1955; out of 19 hits they had from 1955 until 1959, only one is on this collection.

This music is so syrupy that you could put it on your pancakes…
---
The Four Aces:
·
Love Is A Many Splendored Thing
– A number one hit in the fall of 1955.
·
Mister Sandman
– This song doesn't appear in my Whitburn book, but it shows up in
Rock Almanac
by Stephen Nugent and Charlie Gillett, who put it in the top 10 in January of 1955. I don't quite get that; either it was in the top 10 or it wasn't. This version pales beside the one by The Chordettes, but it was the one used in
Back To The Future
with Michael J Fox.
·
Chapel In The Moonlight
– A later song; this was a hit for The Bachelors, and for Dean Martin
·
Stranger In Paradise
– A hit for Tony Bennett, and I have versions by The Ventures (called "Paradise") and by The Supremes.
·
Feelings
– The Morris Albert hit from 1976
·
Believe In Love
·
Heart And Soul
– Another version of the Charmichael / Loesser song
·
A Woman In Love
– From the end of 1955
·
I Write The Songs
– This was written by Bruce Johnston, who was a member of The Beach Boys, and he wrote it for Brian Wilson, and Barry Manilow had the hit, and it was never any good by anyone…
·
Three Coins In The Fountain
·
Heart Of My Heart
·
Tell Me Why
– This is not The Beatles song, but Bobby Vinton did it, and I think Elvis,
·
(It's No) Sin
– Identified on the label as "Sin," this was their first hit.
·
Garden In The Rain

·
Written In The Wind

·
And I Love You So
– by Don McLean, from his first album, Tapestry, no relation to Carole King, pre-American Pie. This is a strange ballad, "the people ask me how, how I've lived till now" he sings. People? What people? Perry Como had a crack at this also.
·
Now I Need You