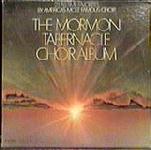 The great thing about top 40 radio back when it mattered was this: anything could be on there. Most of it was what you'd expect – pop, rock, rhythm & blues. There was quite a bit of MOR (Al Martino, Lawrence Welk, Andy Williams) and country (Tammy Wynette, Buck Owens, Marty Robbins Johnny Cash). There was even bona fide jazz (Take Five by The Dave Brubeck Quartet reached number 25 in 1961, Desifando by Stan Getz and Charlie Byrd reached number 15 in 1962).
Even in that context of (almost) anything goes, a top 40 hit by The Mormon Tabernacle Choir is a downright oddity. Their forte is classical, a genre which does not lend itself to the format (Miguel Rios nothwithstanding), and religious music (classical and otherwise), but they've done folk songs and patriotic songs also. I don't know the story behind their one top 40 hit, but a story there must be. Enlightenment would be appreciated.
What I have here is an edited version of
The Mormon Tabernacle Choir Album
, which is 2 volumes of greatest hits repackaged; I edited out most of the religious content (The Lord's Prayer, A Mighty Fortress Is Our God, Heavenly Father!, Come, Come Ye Saints, a few others), and I'm sure that such an action skews the content of this in a rather unrepresentative direction. It is, however, what it is.
Question for discussion: if not for the fact that they put a hit on the top 100, would I have this in my collection?
---
The Mormon Tabernacle Choir:
•
God Bless America
– And why not? This is big and dramatic; all their stuff is big and dramatic. It's the nature of the beast. Kate Smith, eat your heart out.
•
When Johnny Comes Marching Home
– And the ants go marching two by two, same melody. They are much too big for this.
•
Bless This House
•
Battle Hymn Of The Republic
– I'm not Christian and I'm not American, but this song, over-the-top-melodramatic as it is, always moves me. This record reached number 13 on the Billboard Hot 100 in the fall of 1959. I don't know why. Elvis did it also, as part of the American Trilogy (with Dixie and All My Trials); it only made number 72. And Andy Williams, who sang it famously at the funeral of Bobby Kennedy, peaked at number 33.
•
This Land Is Your Land
– Woody Guthrie sang for the little guy, for labour unions, for human dignity in poverty. For the MTC to record his song is an anomaly of astronomical proportions. It doesn't make any musical sense either.
•
Jesu, Joy Of Man's Desiring
– Probably Bach's most famous tune. I became aware of it in the version by Apollo 100, simply called Joy. Since then I've heard a million versions. It's been co-opted by everyone and his brother, (The Byrds used it, The Beach Boys on Lady Lynda etc). This type of performance of Bach, the full modern orchestra, has fallen out of favour these days; people like original instruments now. But this works a good sight better then Woodie…
•
Hallelujah Chorus
– This is from Handel, The Messiah. For some reason I became familiar with The Messiah at some point in my early adulthood, and when I hear bits of it now it reaches into some Proustian non-articulable memory-associations (not that Proust couldn't articulate his memories…)
•
O Columbia Gem Of The Ocean
– If they're singing about Columbia, Ohio then I hate to tell them that there's no ocean there…
•
Londonderry Air
– This is Danny Boy with different words. I used to have it in my guitar book, but I never learned to play it.
•
This Is My Country
– Not The Impressions song.
•
Beautiful Dreamer
– This doesn't belong here. They are way too big for a folk song like this.
•
Land Of Hope And Glory
– When I was a kid we had singing class, and this is one of the songs we sang. Our teacher's name was Mrs. Tole, (not the singing teacher) so when we got to the line "How shall we extol thee?" we sang "How shall we Mrs. Toll thee?" I still remember all the words. Later I figured out that it was one of Edgar's Pomp And Circumstance Marches, and later still I learned that it's used at graduations. They didn't play it at my grad.
•
Dixie
– They did the Battle Hymn, it's only fair they do Dixie. Right?
•
He's Got The Whole World In His Hands
– A hit for Laurie London. It's a simple singalong, and they do it a capella, but it still doesn't work.
•
The Battle Cry Of Freedom
– Nothing like a bit of jingoism to get the blood stirring.