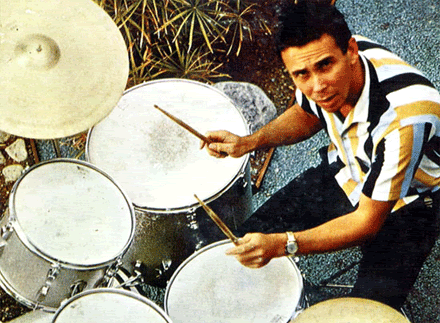 I don't know who did the first rock drum solo. Maybe it was Ron Bushy, Iron Butterfly's drummer, on In-A-Gaada-Da-Vida. Later came Toad by Cream, Moby Dick by Led Zeppelin, Key by The Guess Who, TNUC by Grand Funk Railroad etc etc etc etc.
Superstar drummers didn't exist until then. So I don't know quite what to make of Sandy Nelson. He was a drummer, and he was the headliner. From 1959 until the mid 60's he made a series of vaguely original albums, much like The Ventures, on which he showcased his drumming, actually or notionally. From the mid 60s on, he created a series of generic instrumental LPs covering hits of the day, again much like The Ventures. He managed to put 9 songs on the top 100 between 1959 and 1964.
Maybe I'm missing something (I usually am) but I hear a competent, professional, but not particularly outstanding drummer. I can only imagine that putting his name on the record label was somebody's idea of marketing. And so Nelson's career (and music) stands as a wonderful example of 60s schlock. It's why we listen…
Sandy Nelson:
•
Teen Beat
– Cozy Cole beat Sandy Nelson to the top 40 by about a year, but Cole was really a jazz drummer. What made Teen Beat a drum song was a. it was by Sandy Nelson who was a drummer and b. the drums were mixed up front. Plus it had rhythm, but so do most rock and roll records. From the fall of 1959.
•
Let There Be Drums
– Teen Beat redux, with horns. From the winter of 1961 / 1962.
•
Drums Are My Beat
– Teen Beat / Let There Be Drums redux, with piano. From the winter of 1962.
•
Birth Of The Beat
– I took this off the album and it's fairly long; I assume the single version (it was the B side of Drums Are My Beat and was a hit at the same time) was shorter. Really this is a species of progressive rock before that latter existed. What we hear is a basic rhythmic buildup on drums over a primeval earth-soup background, complete with dinosaurs.